Jason and I were lucky enough to attend the Good Food & Drink Festival's VIP Party on opening night a couple weeks ago. I had never been to the GFDF before so had no idea what to expect.
Our first stop was the Little Rock Honey Farm booth. Man I love honey and these flavours were amazing. We tried the Honey Mustard, the Chai Honey & Ginger Honey. I also tried their Beeswax Handcream and it was AMAZING! My hands were super soft and the scent was very light.
Next stop was the Glutino booth. The pretzels we sampled were delcious and you'd never know the difference.
Next to the preztels was the Udis Gluten Free Bread. Also super yummy and paired with gluten free Peanut Butter!
Then there was RAINBOW KETTLE CORN!! For reals. It's from Brantford, ON's Original Kettlecorn and I wanted to eat all of it.
3 Teas was the next booth and I made my first purchase of the night. I've been looking for a new morning tea that rivals my love of Tetley. Since I heard that they are using basically slave labour and children to farm their tea in India, I am using up what I've got and unless they change their ways it is Goodbye to my favourite tea.3 Teas was a great booth. I ended up purchasing their show deal of a tumbler & 2 teas for $25. I got the Chocolate Black Tea and the Darjeeling Tea. So far they are both delicious and chocolate tea is amazing, but I haven't found my morning Tetley replacement yet.
Jewels Under the Kilt is a Fergus, Ontario Maple Roasted Nut company and their story is really sweet.
My husband and I moved to Fergus Ontario in 2010 to a 90 plus acre farm. We made an agreement that I would not work for two years and focus on the farm. During that time I got to go back to what I enjoy, cooking using fresh and local ingredients. It was during this time that the recipes for the maple roasted nuts was concieved. We came upon a local nursery,Green Barn, that specialized in trees that were adapted to our climate. So my husband and I with the help of  the local nursery planted 100+ trees. We chose to plant a variety of fruit and nut trees and each year we will continue to add to the orchard.
We tried Ontario Maple Peach Amanda Walnuts and Ontario Maple Apple Pie Pecans. We bought Ontario Maple Cinnamon Walnuts
I am a spice wuss but manned up and did the No 7 Hot Sauce Challenge with Jason. I actually I tried all 7 flavours from Mild to Hot!! My mouth was burning by the end and I needed a drink but I actually liked all the flavours.
"@No7HotSauceTO: @carlyannedotcom thank you so much for being brave @GoodFoodDrinkTO#GFDTOpic.twitter.com/gIzNXPttGF" wow! #TorontoLikesItHot

— Sandra (@Ilive4sweets) April 4, 2014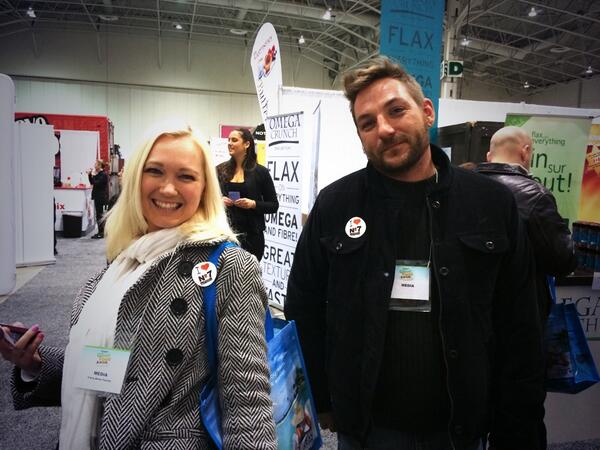 We stopped by the Mealspirations booth – I had heard about them via Erin Bury and signed up but with no vegetarian options it wasn't a fit for me. Luckily they have heard our vegetarian cries and will be launching Veggie friendly options at the end of April!
Alokozay teas were our next stop. I tried the super delicious Jasmine Green Tea and we got their Earl Grey tea in our media goodie bag.
The Big Shott's Edible Shooter Cups were a big hit. It's bascially a mini chocolate dipped ice cream cone that you put Panama Jack & Whipped Cream in. Of course we tried these!
To be perfectly honest, the coolest thing we saw at the show was the Moose River Garlic Grater. It's something that has been used in the Mediterranean for years and is a small glass/ceramic dish that has a ridged bottom. You take your vegetable and grate it on the bottom of the dish. It works for garlic, potatoes, veggies, and anything else! Super cool and I forgot to go back and get one 🙁
The Pure Infused Maple Syrup booth was delectable. I tried all the flavours but my favourites were the Lvendar Chai (oh my goodness!!) and the Ginger & Apple Cidar Vinegar. Jason had to take me away from the booth because they were sooooo delecious
Then we hit up the Granville Island Brewing booth. We tasted all 3 of their beers to sample and I of course, picked the seasonal Winter Ale. I have this thing where I only like limited edition, seasonal beers. Last summer I found the Millstreet Lemon Tea beer and drank it all summer, only to be sad in the fall when I had no beer 🙁 I drank the Coors Light Ice Tea Beer (Clit for short, haha!) but it was gone before Christmas. So now, thanks to GIB I'll have a beer next winter!
 Meli Handmade Chocoalte & Baklava was hands down, the BEST baklava I have ever tried. I've not really been a fan of the treat before and after tasting these I will buy them when I see them in stores.
Now Ice Syrup was something I'd never heard of before and a pretty innovative idea. It's pure Canadian grape syrup, from Niagara-on-the-Lake and the grapes are harvested like IceWine. Super yummy and great for a treat or to use as a dressing, glaze and in cooking.
These guys were awesome – Jungle Heat Sauces & Jellies. They moved to Costa Rica years ago and started this delicious sauce business. Family owned & operated
Jungle Heat Gourmet began years ago, cooked  over an  open fire, in our garden in COSTA RICA.

11 gluten free sauces, 7 hot spicy snacks, 9 Spice blend

Celebrating 45 International Awards
The highlight of my evening was when The American Rogues 3-piece began playing. As a proud Scottish girl, whenever I hear bagpipes, I immediately find them and listen. There's something about the sound that calls to this wee lass's soul. If I ever get married you can bet there will be a piper playing as I walk down the aisle. On a beach. (ok I'll stop).
Check out the video of their final song.
We walked around the alcohol area but honestly, they were pretty crowded with lineups. We sampled some great reds and a couple beers
Our final purchase of the night was a 4 pack of Boylan Bottling Co's Soda. My iPhone died by this point so no photos of their booth but we tasted and bought the Birch Beer, Black Cherry Soda, Cane Cola and Creme Soda. These are the yummiest soda's I've had and I've seen them in stores everywhere.
Boylan Bottling's hand crafted, cane sugar sweetened sodas harken back to a time when sodas were all about flavor, instead of syrupy sweetness, excessive carbonation and convenience.
We came home with a great goodie back and our tea, soda & nut purchases. I can't wait for next year's Good Food & Drink Festival and thank you to The Siren Group for inviting us to such a great evening!