Thank you to everyone who shared your spooky Halloween memories to enter this contest.  The winner was chosen using random.org's number generator – comments were numbered by entry time – so the first person to comment was #1 and then Facebook comments continued from there.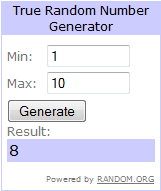 Congratulations to Helena, comment # 8:
My favourite Halloween memory was back in October 1989' – being new to Canada and not having experienced Halloween before, it was a new experience.I didn't quite understand why people dressed up and begged for candy from strangers.
My mom dressed me up as a princess. I can still remember the smell of the mask and the lack of ventilation it provided. We went 'trick or treating' with a family friend; she was much older and was on a mission to fill up an entire pillow case. Instead of a pillowcase, I used a plastic bag, which dig into my tiny hands. After 4 hours of extensive gathering, I was beat. All I remember was being sore, sweaty (from the mask) and cold. I got over that feeling very quickly when I got home and dumped the mountain of candies all over my living room floor. Let's just say I had a chocolate snack for the rest of the year

"
Congratulations Helena!  Please send me your mailing address so we can get your prize out to you.