Woo hoo!  Guys, my awesome friends at Community have given me 3 pairs of tickets to giveaway for Drambuie presents Austra with special guests at the Danforth Music Hall, this Saturday night!!!
It's a part of Canadian Music Week, which is THE hottest music festival in Canada.  I've got until the end of the day to pick winners and it's super easy to enter.
All you have to do is tweet: I want to win tickets to see @AustraTalks from @carlyannedotcom & @DrambuieCanada
I've heard awesome things about Austra and they are currently on their world tour!  Can't wait to check them out live for the first time and the Danforth Music Hall is a great venue to see them at!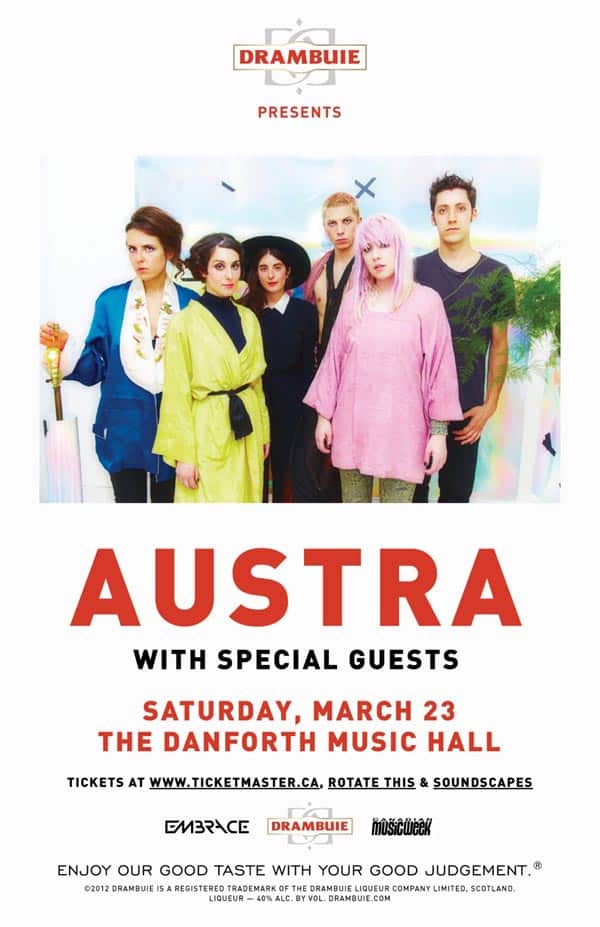 Date: 
Saturday March 23
rd, 2013
Location: Danforth Music Hall (venue / map)
Time: Doors 7pm
About Austra: Austra is a Canadian electronic music band from Toronto, Ontario, formed in 2009. The band consists of Katie Stelmanis, her former Galaxy bandmate Maya Postepski and former Spiral Beach bassist Dorian Wolf. austramusic.com