Guess what?  I have been waiting to share the awesome news with you that I've been selected as one of the the Stella Artois Légère Social Media Neighbour's for the Beach/Leslieville/Danforth area. There will be six sampling teams (wearing 1960s-inspired outfits and riding Stella Artois Légére-branded bicycles and Mini Coopers) who will be handing out complimentary samples throughout the cities neighborhoods from now until July 9.
But complimentary samples of Stella Artois Légére is not all… they're giving YOU a chance to vote for your favourite neighborhood in Toronto (EAST SIDE) via the Stella Artois' Facebook page The neighbourhood receiving the most votes gets to host an Ultimate Block Party for 200 people! Voting closes on July 10th, 2011.
If you live in the Beach/Leslieville/Danforth areas you already know that we live in the BEST neighborhood in the city so stay tuned to my blog and twitter for updates on the Stella Artois Légére summer sampling program.  And keep your eyes peeled for the Stella Artois Légère street teams.  Tweet or FB me if you see them!
Also, for all you parents or concerned folks out there — you MUST be 19+ to participate in the sampling — no complimentary beer for minors.  Sorry guys!
So happy to be back in TO for the summer 🙂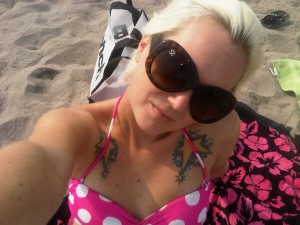 +

=
SUMMER OF FUN