I woke up early today and had a nice morning by myself.  I'm so ready to start another great week.  Had an awesome weekend staying home.  Super positive talk with Casie on Saturday – we keep throwing up rainbows at each other – that girl's enthusiasm is infectious and I really can't wait for everything to come.  Had a good hang with Kathryn and went to bed early both nights.  Sunday was a marathon grocery shop with Kathryn & Kristin and then we came back to my place to have a BBQ.  Kyle got home from a show opening for Ludacris on Saturday and I got to see some of my favourite boys.  It was so nice and warm yesterday and the evening was just as nice.  It was a 90% chance of rain, but the 10% came through and the night actually warmed up even more.  I love being out on the back porch with everyone.
Got to talk to Chad a few times yesterday too, which always makes my day a little brighter.  I think we've got the hang of the "on tour" relationship.  I'm so excited every time he tells me about a show and how good things are going.  Their album is going to be released in a little over a month, June 08 to be exact, and I can't wait for it to be out.  Their animated video is on MuchMusic but I haven't seen it yet, have you?
I'm feeling so happy with the sun streaming through my window.  I watched the neighbors puppies run around in our backyard this morning, one is a Great Dane/Newfoundland cross and she is so huge next to her little Pug friend.  Harley is not a fan of the dogs and was a little mad that he had to wait to go out.  I gave him some tuna and it seemed to even things out.
I've got to get back to work now.  Have lots of cool and exciting things coming up that I can't wait to share.  I hope you're all having a great start to your week.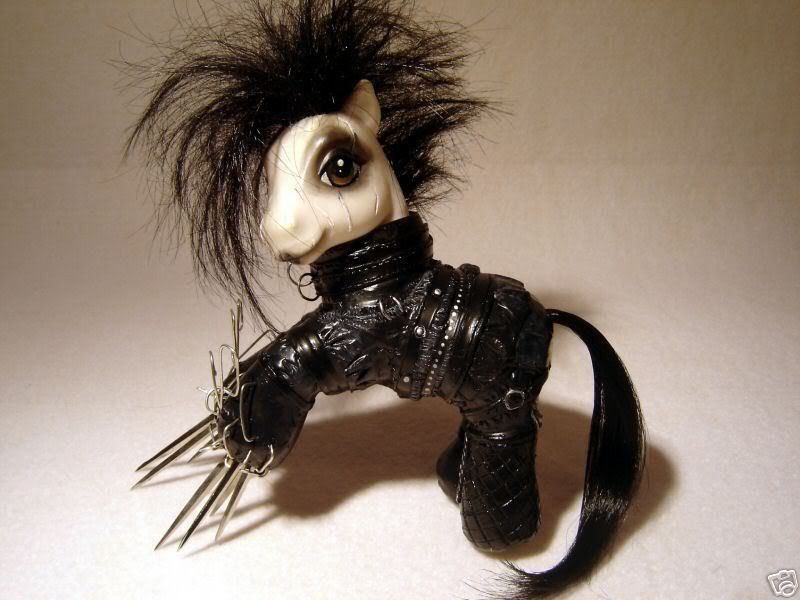 K, this isn't exactly a "happy" picture but it's a pretty cool My Little Pony.